Buying a Foreclosure Property
Posted by Laura Baynham on Tuesday, January 7, 2020 at 5:03 PM
By Laura Baynham / January 7, 2020
Comment
What is a foreclosure property?

A foreclosure property is often referred to as Real Estate Owned (REO). It is a home that was once customer-owned but is now owned by the mortgage holder. This occurs as the result of a foreclosure action or acceptance of a deed-in-lieu of foreclosure. Foreclosures occur when mortgage payments are not made over a period of time and all efforts to resolve the default are unsuccessful. The mortgage holder then has a right to take the property from their customer.
In Texas, there are two types of foreclosure properties; judicial (this means the courts are involved) and non-judicial, which are sold on the first Tuesday of the month without the courts being involved.
Will I get a good deal if I buy a foreclosure property?
You have the potential to get a "good deal" through the purchase of a foreclosure property. However there are many risks associated with buying a foreclosed property. To clarify, these risks can often outweigh the positives.
When you purchase a home at auction, you are purchasing it "as is." There are no warranties (expressed or implied). This means that the seller does not guarantee the property's condition. There may be structural issues, lead paint or termites all of which the purchaser of the home must remedy.
How do I buy a foreclosure property?
While most of us think purchasing a foreclosure property is very similar to a traditional home purchase. More often than not things do not work out that way. Purchasing a foreclosure property means you purchase it at public auction. By law, foreclosure sales must be announced publicly.
Public auctions take place the first Tuesday of the month. The location is chosen by the commissioners of the county where the property is located. This often means on the county courthouse steps or close by. Auctions are conducted by a trustee of the mortgage company, the sheriff or an independent auction company hired by the mortgage company.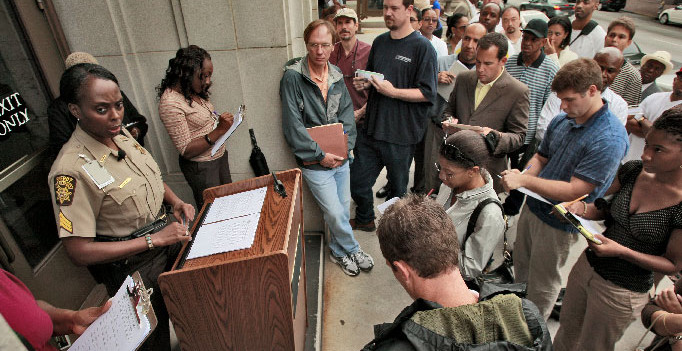 Foreclosure auctions often feel chaotic. Multiple auctions can be occurring at the same time.
If you are the highest bidder, then you provide earnest money in the form of a cashier's check or money order. Earnest money must be provided by the time the person conducting the auction is finished. If you are unable to provide the money, the property will go back up for auction.
Come prepared to the auction. You'll want to have cashier's checks made out to yourself in a variety of increments. Also bring cash so that you can provide the exact amount of money due.
Do I need to hire a real estate agent?
Buying a foreclosure property is full of challenges. To ensure success, hire an experienced realtor. Most importantly they can help you protect your interests and determine whether or not the property is a good fit for you.
Real estate agents help you determine how much to bid on the property. While working with an agent provides you with a level of comfort, additionally they ensure your purchase goes smoothly. Our agents can answer any of your questions about buying a foreclosure, feel free to contact us.
Above all, research is the key to successfully purchasing a foreclosure property.